FibroLife® S2 Fibroblast Medium Complete Kit LL-0011
更新日期:2014年03月21日 浏览次数:次
相关产品:
培养试剂
Optimized for Culturing Human Fibroblasts in a Low-Serum Environment: FibroLife® S2 is a variation of our FibroLife®cell culture medium optimized for low-serum culture of Human Fibroblasts. FibroLife® S2 supports the growth of these cells in a 2% serum environment at rates equal to or greater than comparable media supplemented with 2% to 10% FBS.
FibroLife® Basal Medium contains no antimicrobials and no phenol red. Antimicrobials and phenol red are not required for eukaryotic cell proliferation, but are available from Lifeline® .
FibroLife® S2 provides an ideal cell system to establish low-serum human feeder layers for stem cell culture or as a model to study wound healing, toxicology or basic cell biology.
Kit format for formulation flexibility: Offered in a kit format comprised of FibroLife® Basal Medium in a light-protected 500 mL bottle, and FibroLife® S2 LifeFactors® Kit with associated supplements and growth factors packaged in a convenient gas-impermeable pouch. This kit allows you to prepare fresh medium in your laboratory, extending shelf life and enhancing performance.
ISO-Style Quality Testing for Reproducible Results
FibroLife® S2 medium is tested for:
Sterility: Negative for bacteria and fungal growth
pH: 7.4 +/- 0.2
Cell Performance: Rate of proliferation and morphology
Osmolality: 270 +/- 10 mOsm
Endotoxin: < 0.5 EU/mL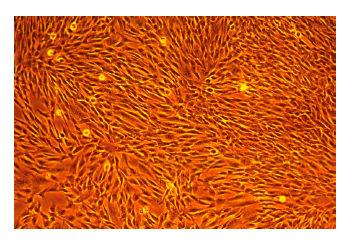 FibroLife® S2 medium grows fibroblasts in low-serum conditions at rates that meet or exceed other commercially available serum-containing media while maintaining excellent cell morphology. In comparisons with other commercially-available media, FibroLife® S2 medium shows superior proliferation at different seeding densities.
Shown at left: Human Dermal Fibroblasts-Neonatal, passage 2, 5 days after inoculation with 2,000 cells/cm2 (100X)
Shown below: Human Dermal Fibroblasts-Neonatal inoculated at low seeding densities in 24-well plates. Higher fluorescence represents a greater number of cells per well, and therefore, better proliferation.